Barentsz-class repair ship

This ship, owned by the Koninklijke Paketvaart Mij, was commandeered for conversion as a repair ship in December 1941. Never fully rebuilt, but nevertheless performed her role. For her task, she was supplied with spare parts, heavy equipment and technical staff.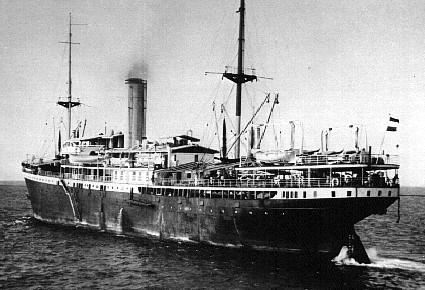 Barentsz at sea
Construction details
Name
Barentsz
Dockyard
Nederlandse Scheepsbouw Maatschappij, Amsterdam
Commissioned
1915 (mercantile service)
December 28, 1941 (R.N.N.)
Owner
Koninklijke Paketvaart Maatschappij, Amsterdam
Specifications
Displacement
4819 gross registered tons
Crew
Dimensions
116,84 x 14,81 x 6.9
Armament
Propulsion details
Boilers
Machinery
Reciprocating engine
Performance
3150 hp
Shafts
1
Max speed
11 knots
Bunkerage
History
Commandeered by the RNN in December 1941 for rebuild as a repair ship. Commissioned as such on December 28, 1941, after which it sailed to Tjilatjap. Provided useful services to the ships present in that port, one of which was the damaged cruiser USS Marblehead in early February 1942. Burnt out after a Japanese air attack in Tjilatjap, March 5, 1942 (no casualties). Wreck was removed post-war.

| | |
| --- | --- |
| May 31, 2006 | Created page |