La Melpomène-class torpedo boat

Design history
Known as the La Pomone or La Melpomène-class, totalling 12 ships. These ships were initially classified as escorts, later as destroyers ("torpilleurs"). They were designed for service in coastal waters in the Mediterranean. The armament and the maximum number of ships built were for this type of destroyer not restricted by the 1930 London Naval Treaty, as long as their displacement did not exceed 600 tonnes.

These vessels were manoeuvrable, but lacked stability and had bad seagoing characteristics. To save weight, welding was applied instead of riveting, which made the hulls structurally less sturdy. Moreover, these ships suffered continuously from engine breakdowns. The Bouclier and five of her sister ships were captured in a British port in July 1940 following France's surrender to Germany. These ships had distinguished themselves off Dunkirk, but were not used in operations during the remainder of the war on the side of the Allied forces, due to continuous machinery problems. They were relegated to secondary duties such as training. There is little information available about alterations in armament and equipment between 1940 and 1945. Postwar, they were towed to Cherbourg, France in 1945 and laid up until they were scrapped from 1950 onwards.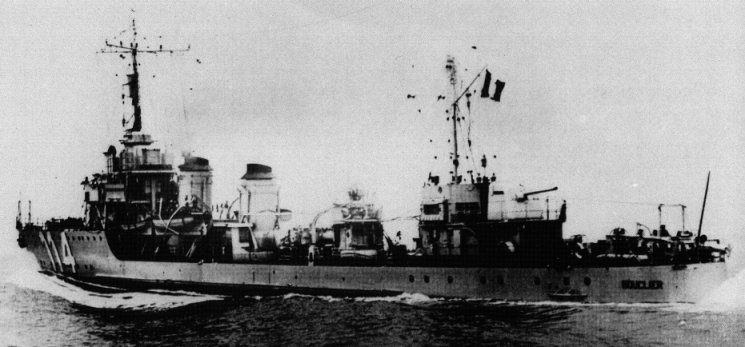 Bouclier in French service (source photo unknown)
Construction details [1]
Name
Bouclier
Dockyard
Chr. Worms & Cie, Ateliers et Chantiers de la Seine Maritime, Rouen, France
Laid down
October 10, 1934 [2]
Launched
August 9, 1937
Commissioned
August 6, 1938 (French Navy) [3]
August 31, 1940 (RNethN) [4]
Pennants
114 (French navy)
H.20 (RN / RNethN)
[1]: Information taken from [WHT] unless noted otherwise. Confirmed by other sources unless noted otherwise.
[2]: [Uboat] says October 18, 1934.
[3]: [VML] says commissioned on August 9, 1937.
[4]: [VML] mentions the date August 14, 1940. I am going with the date August 31, 1940 according to the official history in [GB110].
Specifications [1]
Displacement
610 tons standard
900 tons full load.
Crew
105 [2]
Dimensions
80,70 (o.a.) 75,97 (p.p.) x 7,96 x 3,07 (mean)
Armament
2 x 100 mm Model 1930 (2x1) [3]
2 x 37 mm (2x1) [4]
4 x 13.2 mm MG (2x2)
Torpedo
2 x 550 mm tubes (1x2) [5]
Anti-submarine
1 towed Ginocchio anti-submarine torpedo [6]
Asdic (type unknown)
Depthcharges (type and number unknown)
[1]: Information taken from [CHT] unless noted otherwise. Confirmed by other sources unless noted otherwise.
[2]: [LCOL] says 92.
[3]: According to [NWP], this class carried the 100 mm Model 1932. The Model 1932 did not have anti-aircraft capability, the Model 1930 apparently did.
[4]: from [LCOL], [VML]. Not listed by [CHT], [WHT]
[5]: [VML] says 4 x 550 mm.
[6]: Only mentioned by [CON]. Presumably not carried as wartime armament since this type of weapon was not considered successful.
Propulsion details [1]
Boilers
2 Indret small tube boilers.
Machinery
2 Parsons geared turbines
Performance
22.000 shp
Shafts
2
Range
1500 nautical miles @ 20 knots (designed)
700 nautical miles @ 34,5 knots (designed)

1000 nautical miles @20 knots (wartime conditions).
625 nautical miles @ 25 knots (wartime conditions).
Bunkerage
170 metric tons oil
Speed
34,5 knots
36,5 knots on trials with standard displacement.
[1]: Information taken from [CHT] unless noted otherwise.
History [1]
Part of 14th Division de Torpilleurs, stationed on France's Atlantic coast in September 1939.
Part of the Dunkirk evacuation, May/June 1940. In the course of the evacuation, she was heavily damaged in a collision with an unknown vessel on June 3, 1940.
Seized by the Royal Navy at Plymouth on July 3, 1940.
Commissioned by the RNethN [2] on August 31, 1940 in Plymouth. Earmarked for service with the 23rd Destroyer Flotilla.
Damaged in collision with water boat Fountain off Plymouth during trials on September 16, 1940.
Dockyard repairs and trials in continuation September - December 1940
Decommissioned from the RNethN on January 11, 1941. Crew transferred to Hr.Ms. Campbeltown.
Returned to Free French Navy on January 12, 1941.
Used as asdic training ship from (or until?) August, 1943. [3]
Laid up in reserve at Hartlepool from August, 1944. [3]
Decommissioned from the French Navy August 31, 1950. Scrapped.
[1]: Information from [GB110] unless noted otherwise.
[2]: [WHT], [CON] mention that Bouclier served a short spell with the Polish Navy prior to being transferred to the RNethN. This is not correct.
[3]: From [Uboat].
Sources
CHT
Jean Labayle Couhat "French Warships of World War II", Ian Allen, published 1971.
CON
"Conway's All the World's fighting ships 1922 - 1946", Conway Maritime Press, published 1997.
GB110
GB110 (Mededelingen van de Marinestaf), volume 3, chapter 18: "De bewegingen en acties van Hr.Ms. Nautilus, Hr.Ms. Medusa, Hr.Ms. Van Meerlant, Hr.Ms. Douwe Aukes, F.S. Bouclier, Hr.Ms. Campbeltown, F.S. Notre Dame de France, F.S. Jean Frederic, Hr.Ms. Gruno."
LCOL
H.T. Lenton/J.J. Colledge "Warships of World War II", published 1962.
NWP
John Campbell "Naval Weapons of World War Two", Naval Institute Press, published 2002.
Uboat
Uboat.net - Allied Warships - FR Bouclier
VML
A.J. Vermeulen "De schepen van de Koninklijke Marine en die der gouvernementsmarine 1862-1962", published 1962.
WHT
M.J. Whitley "Zerstörer im Zweiten Weltkrieg", 2nd print, published 1997

| | |
| --- | --- |
| July 25, 2014 | Updated page (all sections) |