Christiaan Cornelis-class torpedoboat

Last of the K-class torpedoboats. By 1940, she was not suited for offensive sorties, and was therefore assigned for patrol duty on the Dutch rivers in the east of the Netherlands.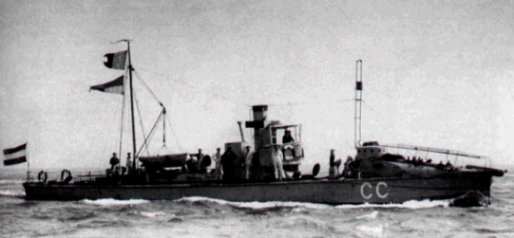 Christiaan Cornelis
Construction details
Name
Christiaan Cornelis
Dockyard
Mij Feijenoord, Schiedam
Laid down
1904
Launched
September 1 1905
Commissioned
December 28 1905
Pennant No
CC
History
Sunk by own crew on May 13 1940 after being damaged by infantryfire of German paratroopers on the Hollands Diep near Rotterdam.
Specifications
Displacement
47,9 t
Crew
12
Dimensions
30 x 3,6 x 1,72 m
Armament
1 x 37 mm
Torpedoes
1 45 cm torpedogun
1 45 cm torpedotube
Propulsion details
Boilers
1 cylindrical boiler
Machinery
reciprocating system
Range
500 miles @ 9 knots
Shafts
1
Bunkerage
5 tons coal
Performance
592 hp
Max Speed
18,6 knots