Flores-class sloops

Sloops meant for guarding the vast territory of the NEI, they were relatively ships with for their size a respectable armament of 5.9 inch guns. Both were in the NEI when World War II broke out in 1939, but Flores was quickly withdrawn to the homewaters in Europe. She survived the occupation of the Netherlands by the German forces and escaped to the UK, serving mostly as a convoy escort and patrol ship on the east coast. Soemba remained in the NEI until March 1942, when she was sent to Ceylon just before the fall of the NEI. Both ships were reunited in the Mediterranean and became a highly succesful duo. They were nicknamed "The terrible twins", as they were very succesful in bombarding shoretargets on Sicily and Italy. They were part of the landings at Siciliy, Salerno, Anzio, Gargliano, Gaeta and finally, at the beaches of Normandy in June 1944. They were attacked by airplanes and coastal batteries dozens of times, almost without serious damage. They served as auxiliaries post-war and were eventually sold and scrapped.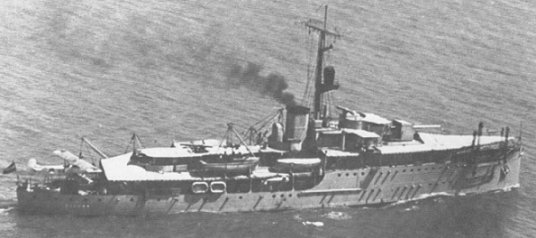 Soemba at sea (note the floatplane on the stern)
Construction details
Name
Flores
Soemba
Dockyard
Mij Feijenoord, Schiedam
Mij Feijenoord, Schiedam
Laid down
January 13 1925
December 24 1924
Launched
August 15 1925
August 24 1925
Commissioned
March 25 1926
April 12 1926
Dockyard number
300
304
Pennants
F-66
N-1
F-803
A-877
T-199
HX-1
A-891
Status
History
History
Specifications
Displacement
1457 t / 1793 t
Crew
145
Dimensions
75,6 x 11,5 x 3,6 m
Main armament
3 x 5.9 inch No. 7
1 x 75 mm
4 x. 50 Browning MG
Added during WW II
Flores*
1 single 40 mm pom-pom
4 x 20 mm Hotchkiss
8 x .303 ** MG
Soemba:
6 x 20 mm Oerlikon.
* Photos also show a twin Bofors mount with type 282 radar in place of the 75 mm gun on Flores.
** These were old quad turrets taken from obsolete Bolton Paul Defiant fighters.
Armour details
Deck
25 - 50 mm
Bridge
50 mm
Ammo hoists
25 mm
Gunshields
14 - 80 mm
Propulsion details
Boilers
4 Yarrow
Machinery
2 Triple-expansion engines
Performance
2000 hp
Shafts
2
Bunkerage
285 tons oil
Range
Speed
15 knots