Java-class cruisers

These cruisers were meant to become the backbone of the cruiser weapon in the Dutch Indies. The greatly resembled the German battlecruisers of the same era, which was not remarkable as the German Germaniawerft produced the design. The ships were fitted with 10 x 5.9 inch guns behind shields, sufficient to counter their designed opponents, the Japanese reconnaissance cruisers of 1912. The idea was that they would clear the seas of light forces, so the submarines could attack enemy invasion convoys and capital ships.

Due to various reasons, they were completed long after the projected date, and by that time, not a navy in the world had their guns mounted behind shields. Two cruisers were built, the Java and Sumatra, and a third was planned, the Celebes. The latter was slightly bigger as she was planned as the flagship of the Commander of the NEI squadron, but she was never completed. Only 30 tons of material had been prepared before the contract was cancelled. She would have been 155 tons larger and 3 metres longer. The Sumatra especially had to overcome great difficulties with her machinery. By WW II, most of the problems had been solved, but she wasn't really suited for frontline duty anymore.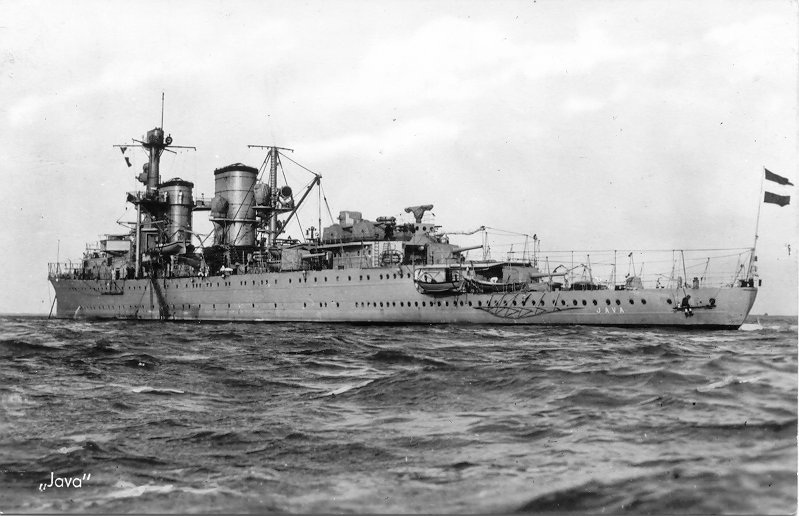 Java seen from the stern after 1937/1938 rebuild
Construction details
Name
Java
Sumatra
Celebes
Design
Germaniawerft, Kiel
Dockyard
Koninklijke Mij De Schelde (Vlissingen)
Nederlandse Scheepsbouw Mij (Amsterdam)
Wilton Feijenoord (Schiedam)
Dockyardnumber
165
148
-
Laid down
May 31, 1916
July 15, 1916
-
Launched
August 6, 1921
December 29, 1920
-
Commissioned
May 1, 1925
May 26, 1926
-
Dockyard Nr
165
148
-
Status
History
History
Contract for construction approved on June 14 1917. Expected launch date July 1 1921. Thirty tons of material already prepared was scrapped.
Specifications
Java
Sumatra
Displacement
6670 tons standard/ 8078 tons full load
Crew
526 (35 officers, 54 petty officers, 437 men)
Dimensions
155,30 (oa) 153 (pp) x 16,00 (max) x 6,22 max (metres)
Main Battery
10 x 150 mm No. 6 (10 x 1)
AA-battery*
8 x 40 mm Bofors No. 3 (4 x 2)
8 x .50 Browning MG
6 x 40 mm No. 1 (6 x 1)
8 x .50 Browning MG
Fire control system
Hazemeyer
ASW
10-12 depthcharges
Radar
-
Other
2 Fokker C-11W aircraft with crane
1 smokemachine
36 mines**
* They had 4 x 75 mm L/55 semi-automatic No.4 as completed, but they were removed during later refits.
** Rails removed during 1935 refit.
Armour details
Belt
75 mm
Deck
25 mm horizontal
50 mm (inclined, connecting deck with belt)
Conning tower
125 mm
Shields
100 mm
Propulsion details
Boilers
8 Schultz-Thornycroft
Machinery
3 Parsons turbines (Java)
3 Zoëlly turbines (Sumatra)*
Performance
73.000 shp (Java)
82.000 shp (Sumatra)
Shafts
3
Bunkerage
1126 tons (normal)
1176 tons (max)
Range
5000 miles @ 12 knots (design)
4340 miles @ 10/11 knots (actual)
Max Speed
31 knots
* After a fire on the dockyard which destroyed her machinery, Sumatra received Zoëlly turbines with toothrads. These were replaced by Parsons turbines in her 1933-1935 overhaul.

Anyone interested in a detailed description of this class should purchase the book "Hr.Ms. Kruisers Java en Sumatra" by J. Anten