Johan Maurits van Nassau (I)

This gunboat was laid down as a result of a rather embarassing violation of Dutch territory. In 1928, a Venezuelan rebel named Urbina sought refuge on the Dutch island Curacao. There he managed to get hold of government money, found a boat back to Venezuela and took the Governor and Chief of Police with him. Both arrived safely back, but this "raid" was a very big blow to Dutch prestige. Until then, ships were only occasionally stationed in the West Indies, usually on their way to the Netherlands East Indies. To guard the safety of this region, the Johan Maurits van Nassau was laid down in Flushing. She is usually considered an improved version of the Flores-class gunboats, but there are some distinct features, such as the different turrets and the large searchlight in the main mast.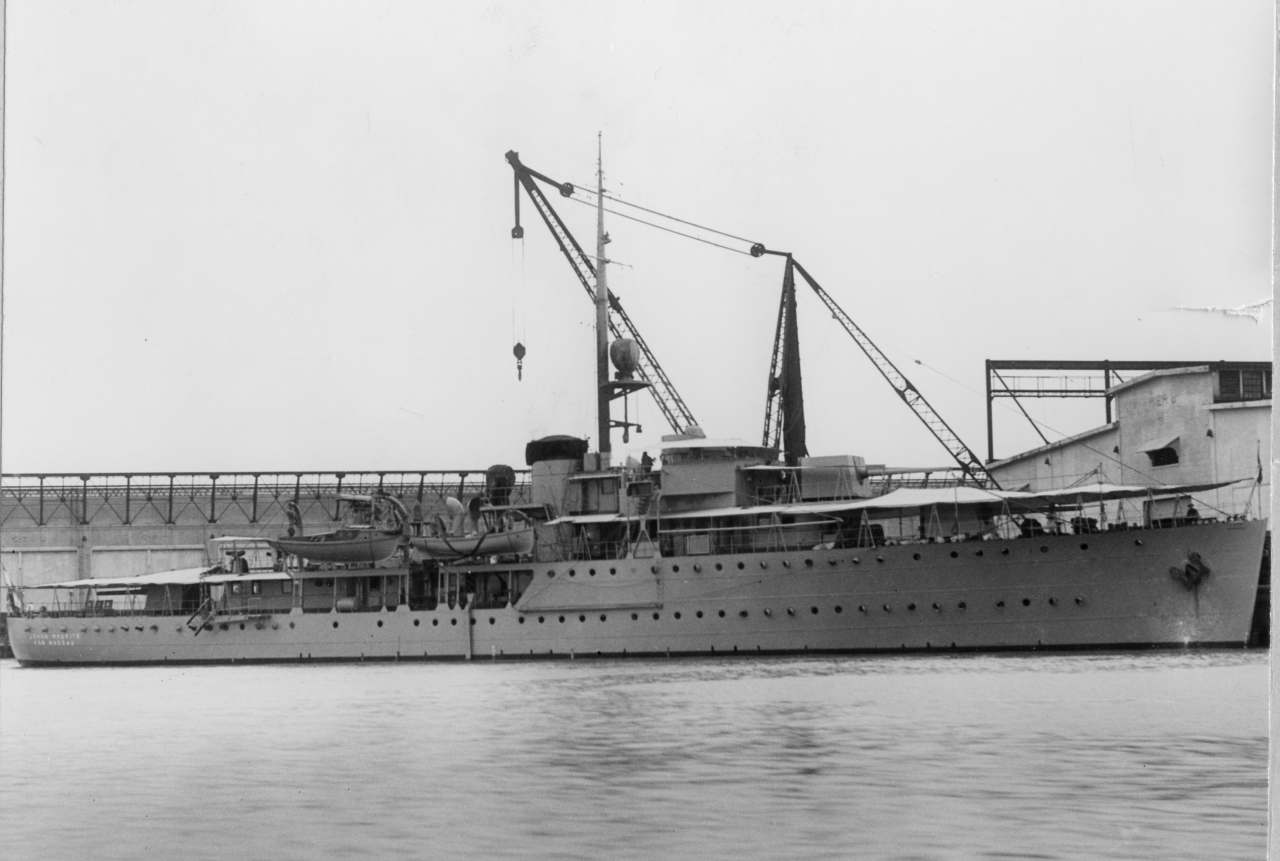 Johan Maurits van Nassau at Colón, Panama on November 12, 1934. During a later refit, a platform with heavy twin machineguns was added at the base of the mast. (Collection National Archives, Washington, USA)
Construction details
Name
Johan Maurits van Nassau
Dockyard
Koninklijke Mij "De Schelde", Vlissingen
Dockyard #
195
Laid down
July 17, 1931
Launched
August 20, 1932
Commissioned
April 5, 1933
Specifications
Displacement
1537 tons / 1795 tons
Crew
124
Dimensions
78,65 x 11,6 x 3,75 m
Armament
3 x 150 mm No. 8 (3x1)
2 x 40 mm Bofors (1x2)
4 x .50 (2x2)
4 x .30
Air
1 aircraft (not carried in May 1940)
Radar
-
Armour details
Main deck
25 mm
Gunshields
Conning tower
25 mm
Propulsion details
Boilers
4 Yarrow
Machinery
2 triple expansion engines
Performance
2100 hp
Shafts
2
Bunkerage
273 tons oil
Max Speed
15 knots
History
When the war broke out, she was in the West Indies awaiting the arrival of the gunnery training ship Van Kinsbergen, which would relieve her of her duties there, allowing the Maurits to return to the Netherlands. On May 10 1940, she was stationed as a search and guard vessel at Flushing. She immediately became a target of German planes, of which she managed to shoot down one. After remaining in the area for a couple of days, she was assigned to bombard the Dutch aerodrome Waalhaven, which was occupied by German paratroopers. She arrvied in Hoek van Holland, but after the tragic loss of the Van Galen during her attempt to do the same, the operation ( of which the Flores was also part ) was blown off. She was ordered to Den Helder on May 12 1940, with the intent to use her to silent a German battery near the Afsluitdijk. She fired a few shots to see if the range was not too big. These shots proved it could be done, and on May 14, she bombarded the German battery ( 88 mm'ers of the 1st Cavalry Division ) and silencing her from over 18 kilometres away. On the way back, she was fiercely attacked by German planes, but she remained undamaged, to great surprise of all. The struggle on Dutch soil was however coming to an end, and the role of the Navy had ended. A general evacuation of personell and ships was ordered, and the Johan Maurits van Nassau left Den Helder on May 14 along with the minelayers Jan van Brakel, Douwe Aukes and Nautilus and the torpedoboats G 13 and G 15. In the afternoon, they came under attack of several German planes, about 10 miles west of Callantsoog. Especially the Maurits, being the largest vessel of the convoy was the target, and she received two or three hits, one of which caused a fire near an ammo stack. Abandon ship was ordered, and most of the crew managed to leave the ship. Seventeen crewmen were killed during the attack or died of their wounds. Later, most of those crewmembers were transported back to Den Helder by the rescue vessel Dorus Rijkers, but some were lucky enough to remain aboard the ships going to England.
Photos
Postcard of Johan Maurits van Nassau, date and place unknown (Collection webmaster).
Johan Maurits van Nassau at Ponta Delgada, Azores on May 21, 1937 (Collection Carlos Manuel Estrela).