Admiral Johannes Theodorus Furstner

Born Amsterdam January 16, 1887 - Died The Hague September 15, 1970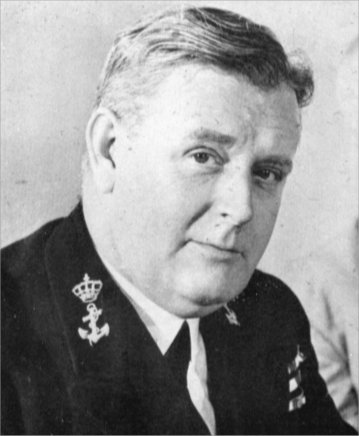 Furstner would become the central figure in the Royal Netherlands Navy both in the late 1930s as during the Second World War. He attended the Higher Military School during 1919-1924, and immediately became a teacher at the newly erected Netherlands Naval War College. During 1927/1928, he attended the French École de Guerre Navale in Paris where he came under the influence of the famous maritime theorist Raoul Castrex, whose thinking was based on the theories of Mahan. This included how to successfully attack a more potent enemy with a small force, which was exactly the position the RNN was in at the time. Furstner's appointment as Director of the High Naval Academy allowed him to spread his views among the officers attending this school between 1930 and 1936. After becoming Chief of the Naval Staff in 1936, he was the principal figure in Dutch prewar planning and operations. The plan to construct three battlecruisers was sparked by a note he submitted in December 1938.

After Germany invaded and subdued Holland in a mere four-day struggle, Furstner managed to escape Holland by fishing boat. After arriving in London, he organized the remnants of the Dutch fleet. In doing this, his focus was on the loyal cooperation with the British Royal Navy in the fight against Germany. He became Minister of Navy in July 1941, after this particular branch was seperated from the Ministry of Defence. He retired in 1945, and became a member of the State Council, from which he retired in 1962.
Ranks
Midshipman 1st class
September 16 1906
Lieutenant
September 16, 1908
Lieutenant-Commander
September 1, 1918
Commander
December 14, 1928
Captain
March 27, 1933
Rear-Admiral
January 1, 1936
Vice-Admiral
January 1, 1938
Admiral
February 15, 1942
Retired
August 25, 1945
Postings
Student, Netherlands Naval War College
1918
-
1920
Teacher, Netherlands Naval War College
November 1, 1921
-
August 21, 1924
Artillery officer, light cruiser Hr.Ms. Java
1925
-
1927
Student, Ecole Supérieure de Guerre, Paris
1927
-
1928
Executive officer, armored ship Jacob van Heemskerck
1929
-
Director, Netherlands Naval War College
September 15, 1930
-
July 1, 1936
Commanding officer, Hr.Ms. Hertog HendriK
1935
-
1936
Chief of Naval Staff, Ministry of Defence
July 1, 1936
-
May 14, 1940
C-in-C, Dutch naval forces
(Bevelhebber der Zeestrijdkrachten, or BdZ), London
May 15, 1940
-
August 1945
Minister of Navy
July 27, 1941
-
February 23, 1945
Other activities
Member of the State Council
August 25, 1945
-
1962
Awards
Dutch
Commodore in the Order of the Dutch Lion (NL.2)
Officer in the Order of Orange Nassau (ON.4)
Honorary sign for important undertakings: Sunda islands 1905-1909 (E.17)
Coronation Medal 1948 (IM.1948)
Mobilization Cross 1914-1918 (Mk)
Service Cross for naval officers, for 30 years' of service (XXX)
Foreign
Knight Commander of the Bath (KCB) (Britain)
Large cross in the Order of the Crown of Belgium (Belgium)
Commodore 2nd class in the Sword Order of Sweden (Sweden)