Rear-Admiral Pieter Koenraad

Born Dirksland June 6, 1890 - Died Las Palmas (Canary Islands) February 22, 1968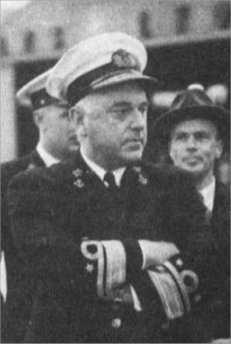 Rear-Admiral Koenraad was the flag officer in command of the important naval base at Soerabaja at the start of the Pacific War. Koenraad's biggest achievement as an officer was probably his foresight during February 1942.

He realized the invasion of Java was just a matter of time, and started to prepare the evacuation of naval personnel to Ceylon or Australia. When the time came, there was more or less a plan ready for execution. Koenraad and his staff embarked on the submarine K-XII, which made it to Australia safely.

In May 1943, Koenraad replaced Rear-Admiral (Acting) F.W. Coster as Flag Officer in charge of all Dutch naval forces in the area.









Ranks
Midshipman 1st class
August 23, 1911
Lieutenant
August 23, 1913
Lieutenant-Commander
October 17, 1921
Commander
May 14, 1934
Captain
November 1, 1938
Rear-Admiral (acting)
January 1, 1942
Rear-Admiral
November 1, 1943
Vice-Admiral
May 1, 1946
Retired
May 1, 1946
Postings
Commanding Officer, Destroyer Division (NEI)
January 16, 1935
-
November 4, 1935
Commanding Officer, Soerabaja naval base
June 13, 1939
-
March 6, 1942
C-in-C Dutch Naval Forces Australia
May 1, 1943
-
October 1, 1945
C-in-C Dutch Naval Forces, NEI (acting)
October 6, 1945
-
January 21, 1946
Awards
Dutch
Knight in the Order of the Dutch Lion (NL)
Officer in the Order of Orange Nassau (ON.4)
War Remembrance Cross, with 1 bar (OHK.1)
Mobilization Cross 1914-1918 (Mk)
Service Cross for naval officers, for 30 years' of service (XXX)
Foreign
Officer in the Order of Nichan-Iftikhar of Tunis (unknown nationality)