Captain Charles Louis Jean François "Siki" Douw van der Krap

Born Surabaya, Java October 8, 1908 - Died Wassenaar, December 9, 1995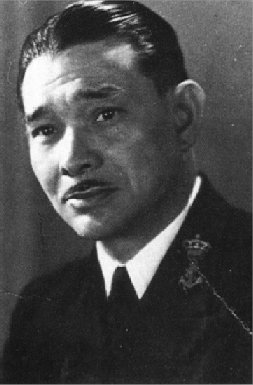 "Siki" Douw van der Krap became famous after World War II as a particularly determined "escape artist" in German POW camps, but his evenful career started in 1929, when he graduated from the Dutch naval academy. He requested assignment to the Dutch naval air service, where he was trained as observer and aviator. In August 1939, he returned to Holland after his tour of duty in the Netherlands East Indies. In Hellevoetsluis, he assumed command of the river gunboat Balder one day after Germany invaded Poland.

On May 10, 1940, his ship was in overhaul at Rotterdam. Looking out his window, he witnessed German paratroopers seizing key positions in the city. After making his way to the local naval barracks, he took command of a company of untrained navy recruits. With them, he helped to check the German advance.

After the Dutch capitulation four days later, he bluntly refused to promise not to engage the German occupying force in any hostile action. He spent the following years in various German prison camps, often trying to escape. His fourteenth attempt from Stanislau, Poland was finally successful. With his colleague Lieutenant F.E. Kruimink, he made his way to Warsaw, where he joined the Polish underground army. With the help of employees of the Dutch Philips company, he assumed a new identity. During the summer of 1944, he witnessed the horrors of street fighting during the Polish uprising. While the fighting was still going on, he was evacuated to Holland with the rest of the Philips staff. After joining the Dutch underground around Arnhem, he commanded a group of Dutch civilian volunteers during Operation Market Garden, the failed Allied attempt to seize the important bridges at Nijmegen and Arnhem. After the Germans had countered this attempt, he made his way across the river Rhine to liberated territory, together with the remnants of the Allied paratroop units. From there, he was flown to Britain, where he requested detachment to the Royal Navy.

In 1981, he wrote his wartime memoires titled "Contra de Swastika".


Ranks
Sublieutenant
August 21, 1929
Lieutenant
August 21, 1931
Lieutenant-Commander
December 1, 1941
Commander
August 1, 1950
Captain
July 7, 1955
Retired
August 4, 1958
Postings
Attached to Naval Air Base Morokrembangan, Surabaya
1935
-
1939
Commanding Officer, river gunboat Hr.Ms. Balder
September 2, 1939
-
May 14, 1940
In German captivity
July 14, 1940
-
November 21, 1943
Cruiser Hr.Ms. Jacob van Heemskerck
September, 1944
-
December, 1944
Navigation Officer, heavy cruiser HMS Berwick
January, 1945
-
July, 1945
Cruiser Hr.Ms. Jacob van Heemskerck
July, 1945
-
January, 1946
Cruiser Hr.Ms. Tromp
January, 1946
-
May, 1946
Teacher Dutch Naval Academy, Den Helder
1947
-
1950
Detached to Indonesian Navy as advisor
1950
-
1952
Director, of Operations and Planning, Dutch naval staff
1953
-
Executive Officer, cruiser Hr.Ms. De Ruyter
-
1957
Commanding Officer, reserve fleet
1957
-
1958
Awards
Dutch
Knight in the Military Order of William, 4th class (MWO)
War Remembrance Cross with 3 bars (OHK.3)
Resistance Remembrance Cross (VHK)
Related literature
Charles L.F.J. Douw van der Krap "Contra de Swastika", 1981, ISBN 90 269 4530 2
Patricia Steur/Leonoor Wagenaar "De Laatste Ridders", Chapter 1, 199, ISBN 90 120 6408 2