Rear-Admiral Johannes Frans Willem Nuboer

Born Pontianak, Borneo October 2, 1901 - Died Rotterdam, February 26, 1984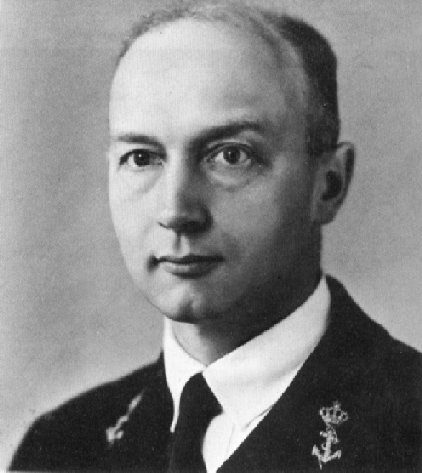 J.F.W. Nuboer is best-known for his pre-war rather than his wartime exploits. He graduated from the Naval Academy in 1921, and during the following years, specialized in communications. In 1930, he attended a course in cryptology given by Major H. Koot of the Dutch army. Following fleet exercises in the Netherlands in 1931, he concluded that the contemporary system for coding and decoding was too vulnerable; he advocated the introduction of the socalled "Enigma"-machines of German origin, which would gain world fame after World War II. After he graduated from the High Naval Academy in 1934, he wrote a particularly critical report about the combat readiness of the fleet.

That same year, Nuboer was appointed as head of the new Intelligence Bureau of the Naval Staff in the NEI. During the following four years, Nuboer would work closely with the famous "Kamer 14", the intelligence bureau of the colonial army. His activities were restricted to passive intelligence gathering: cracking codes and analyzing communication traffic. Nuboer ofcourse concentrated on the coded radio messages of the Japanese navy, while Kamer 14 concentrated on the code of the Japanese Ministry of Foreign Affairs. Nuboer worked full-time on the Japanese codes, and his successes were in keeping with his efforts. During the 1930s, the results of the codebreaking efforts gave the Dutch advance warning of events to come, and allowed the Naval Staff to keep track of Japanese squadrons at sea. This is even more surprising when one realizes that there were only two officers available to work on the codes at any given time, and that none of these men were familiar with the Japanese language. Unfortunately, the Japanese changed their coding system shortly thereafter, thus rendering Nuboer's efforts useless for the future.

Nuboer was stationed in Holland at the outbreak of war as teacher and acting director of the Dutch naval academy, a post he held only in name. He was in fact attached to the naval staff as staff officer, and escaped with most of the naval staff on board a Dutch fishing boat to Dunkirk, from where he made the crossing to Britain. After his arrival, Nuboer played an inconspicuous but important role in London, as advisor to Admiral Furstner and later Prime Minister Gerbrandy. After his discharge from the Navy in 1953, Nuboer wrote a number of articles about his activities before the war.
Ranks
Sublieutenant
August 18, 1921
Lieutenant
August 18, 1923
Lieutenant-Commander
August 21, 1931
Commander
August 16, 1942
Captain
February 1, 1947
Rear-Admiral (honorary)
October 1, 1953
Retired
October 1, 1953
Postings
Student Netherlands Naval War College
1932
-
1934
Head Intelligence Bureau, Naval Staff (NEI)
August, 1934
-
June, 1938
Navigation Officer, cruiser Sumatra
June, 1938
-
August, 1938
Teacher Netherlands Naval War College
(also acting director from August 1, 1939)
September 20, 1938
-
May 1940
Staff officer, Naval Staff, Dept. of Defence, The Hague
September, 1939
-
May 13, 1940
Staff officer, Naval Staff, London
May, 1940
-
August, 1942
Naval Liaison Officer to the Prime Minister
August, 1942
-
1945
Commanding Officer, sloop Van Kinsbergen
September 20, 1945
-
March 21, 1947
Head Intelligence Bureau, Naval Staff
March 12, 1947
-
April 29, 1949
Naval representative at N.A.T.O in London
May 2, 1949
-
October 1, 1953
Other activities
Director, N.V. Scheepsbouwbelangen, The Hague
1953
-
1969
Chairman, Royal Dutch Association "Onze Vloot" (Our Fleet)
1954
-
Awards
Dutch
Officer in the Order of Orange-Nassau (ON.4)
War Remembrance Cross (OHK)
Service Cross for naval officers, for 30 years' of service (XXX)
Honorary sign for War and Peace, with two bars (OV.2)
Foreign
Knight 5th Class in the Order of liberator Simon Bolivar of Venezuala
Knight in the order of the Legion of Honor of France
Publications
"De Japanse marine operaties tegen Nederlands-Indië (uit Japanse bron), 2 parts" (Marineblad 84-85) of 1974/1975 and (Marineblad 86-87) of 1976/1978"

"A history of Afdeling I (Intelligence), Naval Staff, Batavia, Netherlands East Indies, from August 1934 to January 1938", The Cryptogram, March - April 1981

"De eerste jaren van de marine-inlichtingendienst bij de Staf Zeemacht te Batavia, 1934-1938", Marineblad 91 of June, 1981 [1]

---
[1]: I assume this is the Dutch version of the article published in "The Cryptogram"