Vice-Admiral Albertus Samuel Pinke

Born Heerde, October 14, 1894 - Died Bussum, July 8, 1964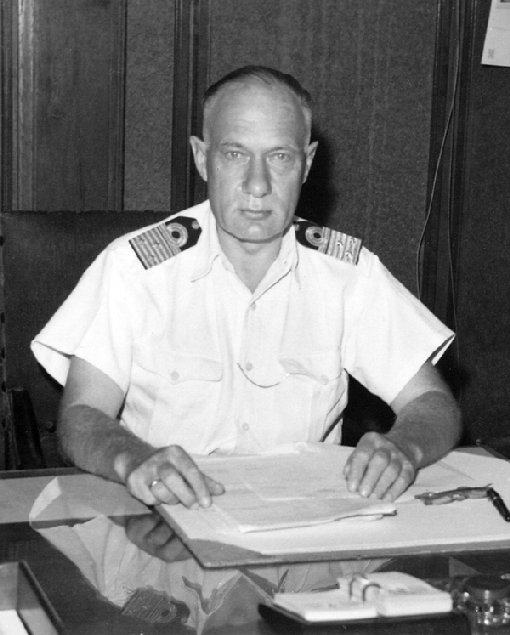 Admiral Pinke was born as the son of Frederik Pinke, a distinguished flag officer who commanded the Dutch naval forces in the Netherlands East Indies during 1912-1916, a most difficult period for the navy. Pinke graduated from the naval academy in 1915, three years after his older brother Frederik. In the period 1920-1935, he mainly served on submarines in the East Indies. After this period, he commanded destroyers, after 1938 combined with the command of the entire destroyer force in the Indies. In 1940, he returned to Europe on board the destroyer Van Galen, which arrived in Den Helder just days before Germany attacked Holland.

On May 10, the Van Galen was sent to Rotterdam to bombard the Dutch airfield Waalhaven, which had been occupied by German paratroopers the previous day. It was a hopeless mission; Van Galen's anti-aircraft battery was almost useless due to defects, but the military situation in Rotterdam warranted the sacrifice of the ship if necessary. The destroyer would never complete her mission; mauled by near-misses from German bombers, the ship had to be moored short of her destination. Her crew took part in the defence of Rotterdam during the following days.

Like many officers, Pinke spent the war years between 1942 and 1945 in a German POW-camp. After his release, he was detached to the Ministry of Defence. In 1946, he was sent to the Netherlands East Indies, where he became the Commander-in-Chief of all Dutch naval forces in the region. The main task of the navy was at this time the support of the colonial army in its campaign against the Indonesian independence movement. In september 1949, Pinke was relieved by Vice-Admiral F.J. Kist. The Dutch-Indonesian conflict ended just a few months later, in favor of the latter.

Honorably discharged in 1950, Pinke was head of the Scientific Research Office of the Naval Staff between 1951 and 1954. What followed were several positions as advisor and chairman of various commissions.


Ranks
Sublieutenant
July 31, 1915
Lieutenant
July 31, 1917
Lieutenant-Commander
August 17, 1925
Commander
November 1, 1937
Captain
November 1, 1945
Rear-Admiral
December 28, 1945
Vice-Admiral
March 1, 1947
Retired
September 1, 1950
Postings
Commanding Officer, submarine O 2
April 1, 1921
-
March 15, 1922
Commanding Officer, submarine K VII
June 5, 1925
-
June 12, 1926
Commanding Officer, submarine K IX
June 12, 1926
-
June 22, 1927
Commanding Officer, submarine O 5
February 4, 1928
-
December 3, 1929
Commanding Officer, submarine K IV
January 10, 1930
-
September 10, 1931
Commanding Officer, submarine K XI
June 1, 1931
-
November 1, 1932
Commanding Officer, submarine K XII
November 1, 1932
-
January 8, 1934
Commanding Officer, Submarine Flotilla N.E.I.
June 1, 1931
-
April, 1934
Commanding Officer, Destroyer Division N.E.I.
January 20, 1938
-
March 26, 1940
Commanding Officer, destroyer Van Galen
March 26, 1940
-
May 11, 1940
Prisoner of War
May 15, 1942
-
April 28, 1945
C-in-C Dutch Naval Forces, N.E.I.
January 21, 1946
-
September 30, 1949
Head of Naval Department (Ministry of Navy), N.E.I.
January 21, 1946
-
September 30, 1949
Head, Scientific Research Office , Naval Staff
November 1, 1950
-
1954
Awards
Dutch
Commodore in the Order of the Dutch Lion (NL.2)
Officer in the Order of Orange Nassau (ON.4)
Bronze Lion (BL)
Honorary sign for Order and Peace (OV)
Mobilization Cross 1914-1918 (Mk)
Service medal for naval officers, for 35 years' of service (XXXV)
War Remembrance Cross, with 2 bars (OHK.2)
Related literature
Prof. Dr. G. Teitler "Vlootvoogd in de Knel. Vice-admiraal A.S.Pinke tussen de marinestaf, IndiŽ en de Indonesische revolutie, Assen, Van Gorcum, 1990

R.E. van Holst Pellekaan/I.C. de Regt "Operaties in de Oost - de Koninklijke Marine in de Indische archipel 1945-1951", Amsterdam, De Bataafsche Leeuw, 2003