Zuiderkruis-class supply ship

Design history
The Zuiderkruis was purpose-built for the laying and maintainance of communication cables on the sea floor. Also, she could double as a survey ship. As with most Gouvernements Marine ships, the ship was also designed with military use in mind. The ship could easily be fitted with two single 5.9"-guns, and was also fitted with a large crane. There was enough deck space to carry two floatplanes. The value of the ship in the role of auxiliary cruiser was however questionable: she was slow, with a small range and little armament. She would have presented a large and easy target for any enemy destroyer, cruiser or submarine.

Wireless communications started to replace cable communications in the early 1930s. This allowed the Royal Netherlands Navy to start using the Zuiderkruis in a variety of supporting roles for the Netherlands East Indies squadron from the mid-1930s onwards. She was the largest ship of the Gouvernements Marine, but even so, manoeuvres in the summer of 1936 showed that (in her original design) she was little suited for her intended use as a supply ship for submarines and flying boats. Part of the reason that she lacked sufficient cargo spaces.

The ship was taken in hand in 1938 for a conversion to make her more suitable as a supply vessel. All gear related to handling cables was removed, and mounts for torpedoes were fitted. Tanks for aviation fuel were installed on deck, as were two 3-ton cranes forward of the bridge to off-load stores to submarines. Below deck, spaces were made suitable to stow aviation bombs. Also, the fuel storage was increased to allow her to refuel submarines. Finally, the big mast forward of the bridge was removed and replaced by a smaller one. The conversion was completed on April 1, 1939.

However, even with these modifications, she was still only a supply ship with limited capabilities. For example, much of the stores had to be stowed on deck, since there was not sufficient space below deck. She did however have refrigurated storage spaces which allowed her to supply fresh food to the submarines. Zuiderkruis' conversion came nowhere near the type of conversion for example Hr.Ms. Colombia and her British counterparts in the Royal Navy underwent to become a full-capability depot ship. Zuiderkruis lacked for example the repair facilities and different workshops necessary to support submarines for an extended period of time in remote areas.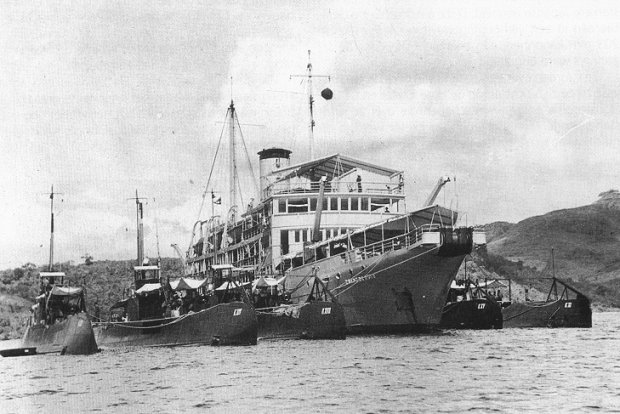 Zuiderkruis with Dutch submarines alongside.
Construction details
Name
Zuiderkruis
Dockyard
Nederlandsche Scheepsbouw Maatschappij, Amsterdam
Contract signed
October 24, 1922
Laid down
January 20, 1923
Launched
November 17, 1923
Commissioned
February/March, 1924
Specifications
Displacement
2661 tons (x1000 kg) standard
Crew
97
Dimensions
87,20 (over all) 78,02 (pp) x 11,20 x 4,30 metres
Armament
2 x 75 mm Krupp L/40 *
2 x 20 mm Oerlikon **
4 x .30 Colt machineguns ***
* These were replaced by 2 British HA/LA 76 mm guns in 1942. It was impossible to find ammunition for the Krupp guns.
** Fitted during her service with the Eastern Fleet.
*** Fitted in the Netherlands East Indies in December, 1941.
Propulsion details
Boilers
2 cylindrical boilers *
Machinery
2 x Werkspoor Triple Expansion engines of 800 ihp each
Shafts
2
Performance
1600 ihp
Max speed
12,5 knots (on trials @ 1718 ihp). Normal speed was 12 knots.
Bunkerage
* Replaced in 1938/1939 by boilers taken from Zeven ProvinciŽn.
History
Trials February 7 and 8, 1924.
Departed for Netherlands East Indies on March 23, 1924.
Arrived Batavia May 5, 1924. Deployed as cable layer from June, 1924 until 1938.
Converted to supply ship for submarines and flying boats 1938-1939.
Escaped from Tjilatjap (Java) on February 28, 1942, arrived Ceylon. Attached to the British Eastern Fleet *.
Depot ship with Eastern Fleet between September 1, 1943 and April 1 1945, mostly used as a transport ship.
Assisted the crew of the torpedoed tanker British Loyalty on March 9, 1944 while anchored at Addu Atoll.
Returned to the Netherlands East Indies October, 1945. Returned to Dienst der Scheepvaart.
Rebuilt to survey vessel 1947-1948.
Transferred to Indonesia in 1950, renamed Bimasakti (also: Bima Sakti). In service as flagship of the Indonesian Navy and President Soekarno's personal yacht.
Sold for scrap 1952 due to bad material condition.
* More information about her wartime experiences from the crew's perspective can be found in the book by W.F. van Rooij/C. Hokke "de mannen van de witte boot", published ca. 1976. Van Rooij was the ship's commanding officer during this wartime period.
Sources
A. Vink "Inrichting en gebruik van de hulpschepen voor de Kon. Marine in Ned. IndiŽ", Marineblad 1939.
B. Holthuis/J.H. Klingen/S.F. Monhemius "Het kabelschip voor Ned. Oost-IndiŽ ,,Zuiderkruis", De Ingenieur, August 1924.
F.C. Backer Dirks "de Gouvernements Marine in het voormalige Nederlands-IndiŽ 1861-1949", volume 3, 1986.
W.F. van Rooij/C. Hokke "de mannen van de witte boot", published ca. 1976.