Holland-class

Last surviving ship of a class of 6 socalled "Pantserdekschepen", derived from the British Apollo-class. Gelderland served as artillery training ship until 1939 when she was decommissioned on August 24 1939 and laid up. Noord Brabant commenced service as accommodation ship in 1926.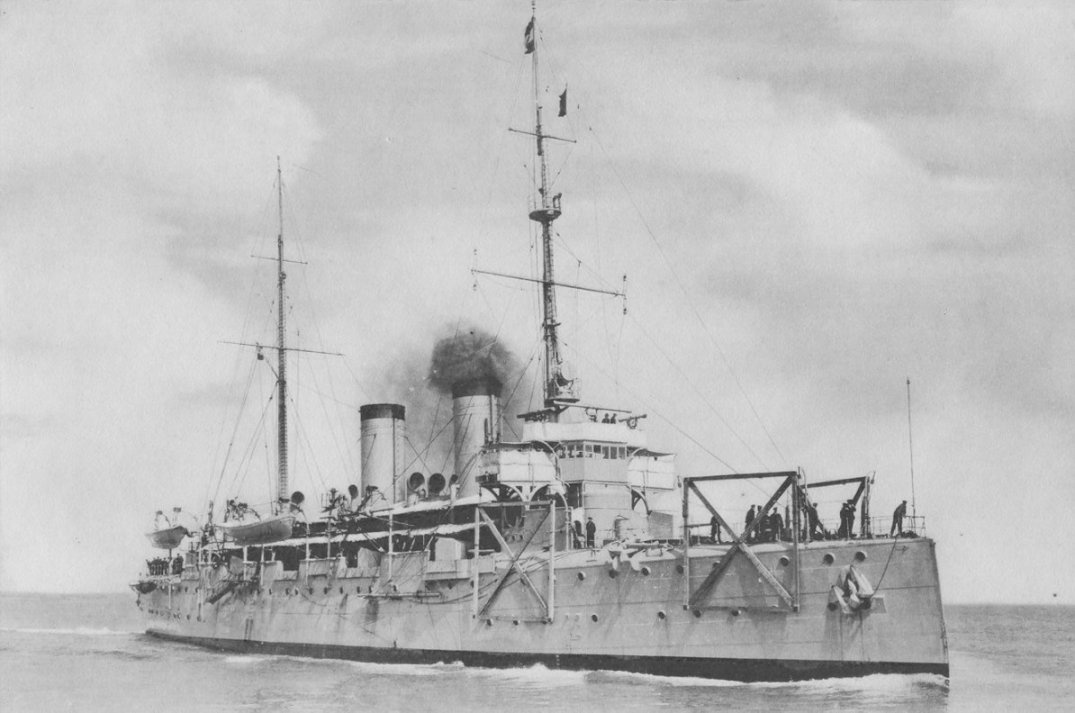 Gelderland in her role as gunnery training ship
Construction details
Name
Gelderland
Noord Brabant
Dockyard
Maatschappij voor Scheeps- en Werktuigbouw Fijenoord, Rotterdam
Koninklijke Maatschappij "De Schelde", Vlissingen
Laid down
November 1, 1897
August 31, 1897
Launched
September 28 1898
January 17, 1899
Commissioned
July 15 1900 (Netherlands Navy)*
March 1 1944 (Kriegsmarine)
March 1, 1900
Status
Decommissioned August 1939, disarmed and laid up in Den Helder, where she was captured by the German occupation forces in May 1940.
Converted to floating AA-battery (a so called "Flakschiff") between 1941 and 1944 (first at C. van der Giessen & Zonen in Krimpen a/d IJssel, later in Elbing) and renamed Niobe, she was commissioned as such on March 1, 1944. She had a very short career, as she was bombed and sunk by Russian aircraft on July 16, 1944 in the Finnish Gulf near Kotka. She proved to be a sturdy ship, shooting down nine aircraft and taking nine hits before sinking. Raised by the Finns in 1947, but abandoned by the Dutch government. Broken up locally.
Decommissioned 1920 and disarmed. Refitted as accommodation ship and towed to Vlissingen in October 1926. Also used as training ship for sailor recruits. Set on fire by the crew May 17, 1940. The wreck was later sold for scrap.
* There are several dates listed for this event. July 15 and 16, and February 12, 1900. I would appreciate it if anyone could give some clarity about this.
Specifications
As completed *
Gelderland as Niobe
Displacement
4030 tons standard
Crew
325
397
Dimensions
94,70 x 14,82 x 5,40 m
Armament
2 x 150 mm No.3
6 x 120 mm No.2
6 x 75 mm No.2
8 x 37 mm
4 revolver guns of 37 mm
2 x 75 mm A
2 mortars of 75 mm A
8 x 105 mm (8x1)
4 x 40 m Bofors (4x1)
16 x 20 mm (4x4)
Fire control
1 Würzberg radar
2 optical range finders
* Gelderland's armament underwent a number of modifications during her career. In 1939, her main armament consisted of eight 120 mm No.2 guns, 3 x 75 mm No.2 and 1 x 75 mm No.1 semi-automatic. In 1940, the ship was completely disarmed. Noord Brababant only had a single 75 mm gun for training purposes on her aft deck from 1926.
Armour details
Main deck
50 mm
Gunshields
13 mm
Conning tower
100 mm
Propulsion details
Boilers
12 Yarrow
Machinery
2 x 3-cycle triple expansion engines
Performance
9867 ihp (on trials)
Shafts
2
Bunkerage
930 tons coal
Range
4500 miles @ 10 knots
Speed
18 - 20 knots
Unlike the other Flakschiffe, the Niobe retained propulsion system and could sail under her own power. Her old machinery provided a speed of about 15 knots.
Last updated December 10, 2004