Soerabaia-class pre-dreadnought

Designed and built after the British HMS Dreadnought, this ship was in fact obsolete by the time of her completion. Armed with two 28-cm guns, she was in fact an enlarged and more powerful version of the Jacob van Heemskerck-class. She was the last of the pre-dreadnoughts built for the Royal Netherlands Navy.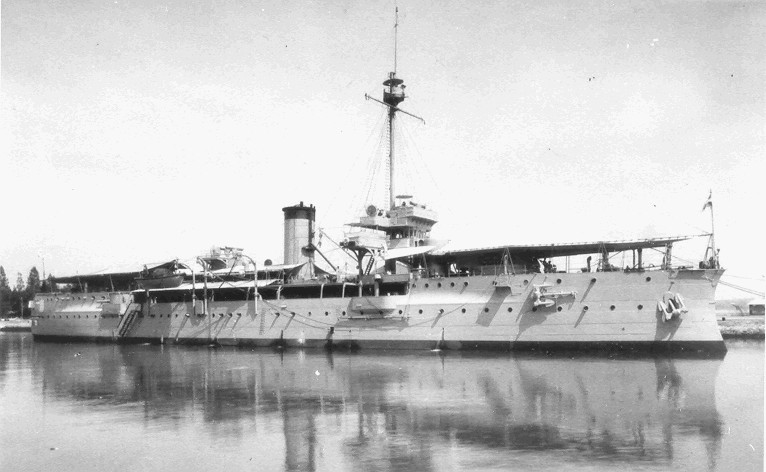 Soerabaia lying in port.
Construction details
Name
Soerabaia (ex-Zeven Provinciën)
Dockyard
Rijkswerf Amsterdam
Laid down
February 7 1908
Launched
March 15 1909
Commissioned
October 6 1910
Specifications
Displacement
5973 t / 6510 t
Crew
448
Dimensions
101,5 x 17,10 x 6,15 m
Armament *
2 x 28 cm L/42
4 x 15 cm L/40
10 x 75 mm L/55 semi-automatic
2 x 37 mm
6 x 40 mm No. 1
2 x .50
* The armament varied considerably during her career. In 1941, the 15 cm, 75 mm and 37 mm guns were probably all removed.
Armour details
Belt
100 - 150 mm
Deck
50 mm
Conning Tower
250 mm
Barbettes
250 mm
Propulsion details
Boilers
8 Werkspoor - Yarrow *
Machinery
Triple expansion engine
Shafts
2
Range
5100 nm @ 8 knots
2100 nm @ 16 knots
Bunkerage
700 / 872 tons coal
Performance
8516 hp (7500 design)
Max Speed
16,27 knots (16 design)
* Number of boilers was reduced to three during conversion to trainingship
History
The old Zeven Provinciën is one of the most notorious ships in the Royal Netherlands Navy, and that was all the result of a black chapter in Dutch naval history. In the early thirties, when the economies of the world, including the Dutch, were falling apart and the governments had to cut in their budgets, naturally the defense and naval departments were the victims. For the navy it meant that personnel had to live with a smaller salary. Ofcourse, this didn't go without protest, and following the example of sailors in the Royal Navy, they started a mutiny. The Zeven Provinciën was at that time (on February 4 1933) on a traing cruise around Sumatra, now near Atjeh. Native sailors set up a mutiny, in which also European sailors participated. The captain was ashore at that time, but there were several other officers still on board. Some of them were captured, but others managed to stay free and hide. They sabotaged the rudder, preventing the ship to move. They later fixed it in exchange for several of the prisoners. The ship then set sail for Java, where there was a force assembled to intercept the ship. A group of Fokker T-4 bombers was also deployed and on February 10, one of them was ordered to drop a warning bomb just before the bough of the ship. Unfortunately, the bomb hit the foredeck killing 23 mutineers and wounding many others. The ship was then seized. This mutiny meant a radical change for the navy, as all men suspected to be a socialist were dismissed. The ship itself was damaged and repaired, but the navy no longer found it worthy of carrying the name Zeven Provinciën (although those provinces were the result of a revolution) and renamed her Soerabaia in 1936. She converted to a training ship with a wartime role in the defense of the naval base in Soerabaja. In December 1941, she was in the vicinity of Timor, as the Dutch had the plan to occupy Portugese Timor, to eliminate the weak link in the chain of islands. She returned to Soerabaja after landing troops and equipment at Dilly, and then served as an AA-battery in Soerabaja. On February 18, she was hit by a bomb which penetrated the ship and exploded near the bottom, wounding over 20 men, of whom several died*. She sank upright, leaving the machine guns operable. During the Japanese occupation, she was raised and used as a batteryship for some time, but scuttled later in the war. The wreck was never removed.
* I have been unable to clearly establish the number of dead and wounded. One source mentions 3 dead, another 13. Please contact me if you have more information.
Photos
Zeven Provinciën en route to the Netherlands East Indies, December 1921 (Collection webmaster).
Landing party of Soerabaia going ashore (Collection J. Klootwijk)
Soerabaia, photographed December 1941 or January 1942 (Able Seaman Bernard W. Simmonds Collection, HMAS Canberra Museum, via Peter Cannon).